The Canton of Geneva finds itself in the embrace of its western neighbor, the department of "Ain," and to its south and east, the department of "Haute-Savoie." These interconnected French areas and communities collectively form the Neighbouring France area (la France voisine).
Within this locality, a considerable number of individuals engaged in cross-border employment have opted to establish their residence here. This decision is often driven by the relatively more economical rental rates in the adjacent French regions as compared to Geneva. This choice presents an attractive proposition for those aiming to harmonize their professional commitments with their personal lives. It is worth noting that in order to engage in cross-border work, it is necessary to have a European passport.
The relationship between Geneva and its Neighbouring France breathes life into the region, enriching both lands with their shared history, opportunities, and passions.
Pays de Gex
Nestled as an enclave between the Jura Mountains and the plains of the Leman region, Gex boasts a notable presence due to its iconic landmarks. Notable among these landmarks are the renowned CERN (European Organization for Nuclear Research), the natural haven of the "Haute Chaine du Jura" Nature Reserve, the historically significant Voltaire Castle, and the esteemed "Bleu de Gex" cheese.
Gex is currently experiencing a steady increase in population, with over 98,257 residents calling it home.
Among the vital communities in Gex, Ferney-Voltaire, Divonne-les-Bains, Gex, and Saint-Genis Pouilly hold prominence. Collectively, their populations range from 6,000 to 10,000 inhabitants.
For additional information regarding the communities in Gex, you can visit the official website: www.cc-pays-de-gex.fr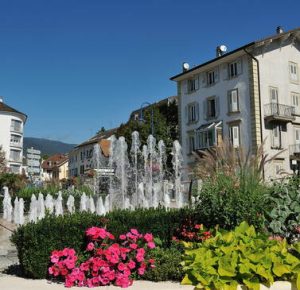 Chablais
Situated to the east of Geneva, Chablais offers a picturesque expanse with approximately 230'000 people. Among its key towns are Thonon, Evian, Publier, Sciez, and Douvaine, each contributing to the region's unique charm.
A significant highlight within Chablais is the expansive "Portes du Soleil," a ski domain straddling the French and Swiss borders. This region encompasses renowned winter destinations like Avoriaz, Les Gets, Morzine, Chatel, and Morgins.
For more comprehensive information about Chablais, you can explore their official website: chablais.fr.
Annecy
Nestled between pristine lakefront and majestic mountains, Annecy, with a population of 52,029, exudes a unique charm.
Renowned for its exceptionally clean lake, the captivating Old Town, the exuberant Lake Party (celebrated every first Saturday of August), the International Film Animation Festival, and the Italian Film Festival, Annecy is a hub of cultural and recreational festivities.
Thanks to efficient motorway connections, the journey from Annecy to the Geneva frontier now takes merely 20 minutes.
For more information about Annecy, you can visit the official website: annecy.fr, or explore the tourist office website: www.lac-annecy.com.
Salève
Stretching southward and southeast of Geneva, the Salève region (170'000 residents) encompasses a collection of vibrant towns that contribute to its dynamic landscape. Noteworthy among these towns are Annemasse, Saint-Julien en Genevois, Gaillard, Reignier, Collonges-sous-Salève, and Archamps.
For further insights into Annemasse, you can visit their official website: www.ville-annemasse.fr.