Welcome to the charming Canton of Neuchâtel!
Neuchâtel holds a unique and significant role as the heart of the Swiss watchmaking industry, while also serving as a prominent hub for micro-technology and high-tech sectors.
Enveloped in an air of enchantment and history, Neuchâtel's Old Town casts a mesmerizing spell upon every visitor, showcasing its enduring charm. A standout gem within this cultural treasure trove is the "Laténium" museum, where archaeological wonders unveil the secrets of the region's ancient past. Through its immersive exhibits, "Laténium" transports visitors into the ancient narrative of the Canton.
Travelling in Neuchâtel
Neuchâtel is conveniently located just about 1 hour and 30 minutes by car from Geneva Airport.
The city's well-connected station is situated at Place de la Gare, to the northeast of the city center, only a 15-minute walk to the heart of the city. With the Swiss Federal Railways (SBB) and the Swiss Train Company (CFF) operating seamlessly, you can travel to various destinations.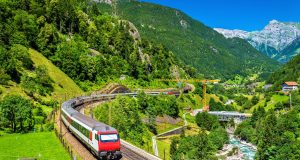 Population
Neuchâtel embraces French as its official language. A warm and inviting community of 176,245 individuals reside in this region. It stands as a testament to diversity, with 32.1% of the population comprising resident foreign nationals.
Location
The canton of Neuchâtel is located in the western part of Switzerland. It is situated along the northern shore of Lake Neuchâtel, one of the largest lakes in Switzerland. Lake Neuchâtel is a true gem, not only for its stunning vistas but also for its unique distinction as the highest and largest lake entirely within Swiss borders.
International schools
The international schools in the Canton of Neuchâtel offer students a unique opportunity to prepare for seamless integration into the Swiss system.
The international schools of Neuchâtel's dedication to integrating students into the Swiss system ensures that each student is well-prepared to embrace the opportunities and challenges that lie ahead. With a strong foundation in academics, languages, and cultural understanding, students graduate as confident, well-rounded individuals, ready to contribute positively to the local and global communities.
International schools in Neuchâtel: 
Public holidays
New Year: January 1st

January 2nd

Good Friday

Easter Monday

Ascension

Whit Monday

Swiss National Holiday: August 1st

Local public holiday "Instauration de la République de Neuchâtel"

Christmas: December 25th