Europe Crossroad
Geneva is located in the heart of Europe. It is an economical and financial hub specialised in the banking sector, finance and international trading. Geneva houses a great number of multinationals and international organizations.
The famous "jet d'eau" is the symbol of the city of Geneva. Saint Peter's Cathedral, the "jet d'eau" and Lake Geneva are Geneva's main tourist attractions.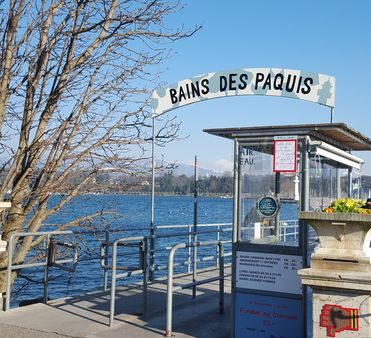 Population
The canton of Geneva is spread over 282 km2 and has a population of 490'000 (December 2015). The city of Geneva has a population of 201'000 (December 2015).
Geneva's current population is increasing (+ 8'334 inhabitants in 2014) despite a very tight housing market (the current housing market vacancy in Geneva is 0, 45% on June 1st 2016).
Geneva is very cosmopolitan. It comprises 180 nationalities and 40% are foreigners.
The official language is French.
Situation
Geneva is situated 373m above sea-level.
The time zone is GMT 1+, summer time +1 (from the last weekend in March to end October).
95% of its border are shared with France, the departments called "Ain" on the west frontier and "Haute-Savoie" on the east and south frontiers.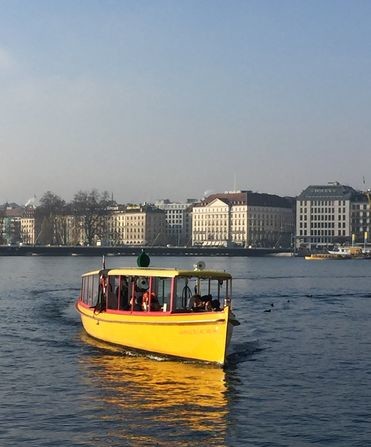 Travelling to Geneva
Geneva Airport is located approximately 5 km from the city centre. An express train from the airport takes you to the Geneva train station (Gare de Cornavin) in 7 minutes. You can get a free ticket from the airport to Geneva city centre, the ticket dispenser is located on the luggage claim area.
Geneva Airport website: gva.ch
The main train station (Gare de Cornavin) is located on the city's right bank. For further information you can consult: cff.ch
Geneva offers excellent public transportation. The public transportation company Unireso enables you to travel by tram, bus and boat (yellow boats called "les mouettes"). You can consult their websites for further information: tpg.ch and www.unireso.com.
The "Compagnie Générale de Navigation" links numerous towns situated on the shores of Lake Geneva which can be accessed by boat: cgn.ch
Bicycles can be rented throughout the year. From May to October bicycle rentals are free of charge: geneveroule.ch
Public holidays in the canton of Geneva
New Year
Good Friday
Easter Monday
Ascension
Whit Monday
Swiss National Holiday : August 1st
"Jeûne Genevois"- The "Jeûne Genevois" is always on the Thursday following the first Sunday in September
Christmas: December 25th
Restoration of the republic of Geneva: December 31st
Maps of Geneva
Neighbourhoods in Geneva are separated by the Rhône river and are linked by various bridges in the city
Right bank: Petit Saconnex, Nations, Pâquis, Saint-Gervais,  Servette, Charmilles, Saint-Jean
Left bank: Eaux-vives, Malagnou, Champel, Vieille-ville, Plainpalais, Acacias, Jonction, Quartier des banques, Tranchées.es.
Download the map: Neighbourhoods in the Canton of Geneva
Download the map: Municipalities in the Canton of Geneva