Located in the German speaking part of Switzerland, Zürich is the largest Swiss city. 32% of the population are foreigners which makes it extremely cosmopolitan with many diverse cultures.
Due to Zürich's idyllic location, situated between the lake and the mountains, it is known to be one of the best places to live, (according to Mercer research). Zürich is the economic capital of Switzerland where many financial, commercial, artistic and cultural exchanges take place.
The two towers of « Grossmünster », the stained glass windows of « Fraumünster » and the Saint-Pierre Clock, are the main symbols of Zürich. They can be seen throughout the city.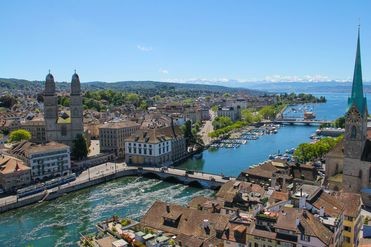 Population
The canton of Zürich has the highest population in Switzerland, with 1.475.400 inhabitants (2015).

More than 1.334.000 inhabitants live in Zürich and its surroundings (2015).

The city of Zürich has 410.000 citizens (2015).

Despite being the third most expensive city in the world (2016-The Economist Intelligence Unit) the population increases year on year.

Even if the official language in the canton of Zürich is German, the locals speak many languages like the Swiss-German dialect, and often French, Italian and English.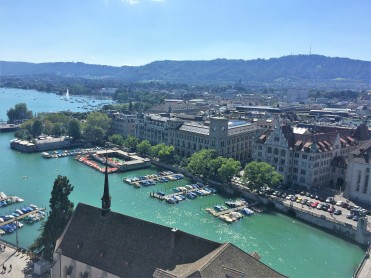 Situation
The canton of Zürich is spread over 1 729 km2
Zürich is 408 meters above sea level
One hour ahead GTM +1, summer time +1, (from the last weekend of March to the end of October).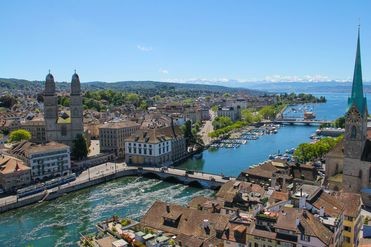 Travelling in Zürich
« Zürich International Airport », located in Kloten, is the largest airport in Switzerland. Situated 13 km north of the city, it takes between 9 to 13 minutes to reach the main train station.
Airport website : www.zurich-airport.com
The city of Zürich is very well connected to the Swiss motorways.
Zürich central train station is the largest in Switzerland, it is a hub which serves not only Switzerland, but also many neighbouring countries, it is one of the busiest train stations in the world.
The canton of Zürich has its own express railway system called S-Bahn Zürich.
Due to its « Car Free » policy, Zürich has an extremely efficient public transport system called VBZ: www.stadt-zuerich.ch/vbz/en/index.html
Public holidays in the canton of Zürich
New year: January 1st
Good Friday
Easter Monday
Labour day: 1st May
Ascension day
Pentecost Monday
Swiss national day: August 1st
Christmas day: December 25th
Boxing day: December 26th